THE MINNESOTA CHINA FRIENDSHIP GARDEN SOCIETY
& THE US-CHINA PEOPLES FRIENDSHIP ASSOCIATION, MINNESOTA CHAPTER (USCPFA-MN)
PROUDLY ANNOUNCE THE CREATION OF
Liu Ming Yuan | 柳明園 | LUB VAJ PHOOJ YWG 
THE ST. PAUL-CHANGSHA CHINA FRIENDSHIP GARDEN
OF WHISPERING WILLOWS & FLOWING WATERS
 

AT PHALEN REGIONAL PARK
THE FIRST SISTER-CITY CHINA FRIENDSHIP GARDEN IN MINNESOTA
A multi-cultural landmark offering an inclusive cultural gathering space
that strengthens community connectedness, health, & healing

Xiang Jiang Pavilion photo by Bryan Murphy, Architect St. Paul Parks & Rec
ANNOUNCEMENTS 
MCFGS Expands Board to 15 Directors
MCFGS held its annual meeting and election on August 24, 2023.  We added 4 new Board members:  Sue Klevan, Christina Le, Pa Thao, Audrey Busch; Two new Honorary Advisory Council members:  Ken Lau and Ying Chu-Yang-Heu; and six new committee volunteers:  Vue Chu, Jay Her, Jeremy Tok, Yao Tu, Dona Yang, Jerome Younger. Congratulations!
* * * * * *
Construction of the Hmong Cultural Plaza began in May 2023.  Visit the site and our Facebook page to see current progress.  Go to the Changsha Garden Design page to view the Phase II Hmong Plaza and Chinese elements designs.
[Chinese elements: Chinese Arched Moon Bridge, Lakeside Moongate Entrance, Permanent Donor Wall, Chinese Chess Table area, Moon Viewing Platform, Xiang Jiang Pavilion Mountain Stream] 
Go to:  www.stpaul.gov/phalenchinagarden for all presentations, and meeting notes & recordings.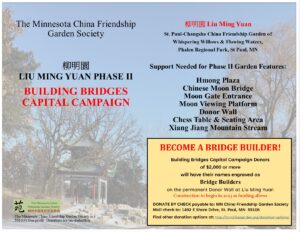 MCFGS announces the 2023 Phase II BUILDING BRIDGES capital campaign. Individual donors giving $2,000 or more will have their names engraved as "Bridge Builders" on the permanent Donor Wall at the China Garden site ($4,000 donation for businesses).
UPCOMING EVENTS – SAVE THE DATE

SAVE THE DATE:  May 18, 2024 Hmong Plaza Opening

"Follow Us" on Facebook at St. Paul-Changsha China Friendship Garden at Phalen Park.