THE MINNESOTA CHINA FRIENDSHIP GARDEN SOCIETY
& THE US-CHINA PEOPLES FRIENDSHIP ASSOCIATION, MINNESOTA CHAPTER (USCPFA-MN)
PROUDLY ANNOUNCE THE CREATION OF
Liu Ming Yuan | 柳明園 | LUB VAJ PHOOJ YWG 
THE ST. PAUL-CHANGSHA CHINA FRIENDSHIP GARDEN
OF WHISPERING WILLOWS AND FLOWING WATERS
 

AT PHALEN REGIONAL PARK
THE FIRST SISTER-CITY CHINA FRIENDSHIP GARDEN IN MINNESOTA

Xiang Jiang Pavilion photo by Bryan Murphy, Architect St. Paul Parks & Rec
ANNOUNCEMENTS 
The St. Paul Department of Parks & Recreation has begun the community engagement process for Phase II of the China Friendship Garden.  The Public is encouraged to visit the website and provide feedback regarding the conceptual design proposals for the Hmong Plaza, Chinese Arched Bridge, Moongate Entrance, Permanent Donor Wall, Chinese Chess Table space, and additional landscaping. 
Go to:  www.stpaul.gov/phalenchinagarden for all presentations, and meeting notes & recordings.
UPCOMING EVENTS
Don't Miss Your Last Chance to Become a GROUNDBREAKER or to move up a level – until 2/28/2022.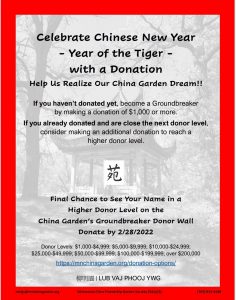 Watch for announcements about upcoming 2022 Phase II capital campaign.
"Follow Us" on Facebook at St. Paul-Changsha China Friendship Garden at Phalen Park.