THE MINNESOTA CHINA FRIENDSHIP GARDEN SOCIETY
& THE US-CHINA PEOPLES FRIENDSHIP ASSOCIATION, MINNESOTA CHAPTER (USCPFA-MN)
PROUDLY ANNOUNCE THE CREATION OF
Liu Ming Yuan | 柳明園 | LUB VAJ PHOOJ YWG 
THE ST. PAUL-CHANGSHA CHINA FRIENDSHIP GARDEN
OF WHISPERING WILLOWS & FLOWING WATERS
 

AT PHALEN REGIONAL PARK
THE FIRST SISTER-CITY CHINA FRIENDSHIP GARDEN IN MINNESOTA
A multi-cultural landmark offering an inclusive cultural gathering space
that strengthens community connectedness, health, & healing

Xiang Jiang Pavilion photo by Bryan Murphy, Architect St. Paul Parks & Rec
ANNOUNCEMENTS 
CALL TO ACTION – We need your support NOW!
PLEASE WRITE & CALL YOUR MN SENATOR AND REPRESENTATIVE
AND URGE THEM TO SUPPORT THESE BILLS:
MN Senate Bonding SF2874-0 and Senate Legacy SF2875-0 MN House Bonding HF2978 and Senate Legacy HF2997
The Minnesota China Friendship Garden Society is seeking $3.6 Million from the State Legislature to fund the design, project management, and construction of 7 new features of Phase II of Liu Ming Yuan – the Changsha Friendship Garden at Phalen Regional Park: $2.4M in Bonding and $1.2M in Legacy
To find your legislator, go to: https://www.gis.lcc.mn.gov/iMaps/districts/
To see conceptual designs for all 7 features in Phase II, go to https://mnchinagarden.org/changsha-garden-design/
* * * * * * *
The Hmong Plaza design was unveiled on 1/7/2023 at a Community Engagement Open House at Hmong Village.  Go to the Changsha Garden Design page to view the Phase II Hmong Plaza and Chinese elements designs.
[Chinese elements: Chinese Arched Moon Bridge, Lakeside Moongate Entrance, Permanent Donor Wall, Chinese Chess Table area, Moon Viewing Platform, Xiang Jiang Pavilion Mountain Stream] 
Go to:  www.stpaul.gov/phalenchinagarden for all presentations, and meeting notes & recordings.
MCFGS sends its sincerest condolences to the Lu family on the death of our Advisory Weiming Lu.  Weiming was instrumental in the forming of the St. Paul-Changsha sister-city relationship in 1988, when he traveled with Mayor George Latimer to Changsha for the signing of the sister-city agreement.  Weiming was also a key supporter for the China Friendship Garden, seeing it as another way to build bridges between Minnesota and China.  We are proud to display his calligraphy of an art stone at the China Friendship Garden. 
MCFGS thanks all our volunteers who helped "Grow the Garden" (weeding and planting) in 2022 – a total of 310 volunteer hours!  In October, the volunteers "amended the soil," planted 100 Siberian Irises and 5 Peonies.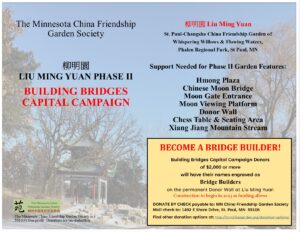 MCFGS announces the 2023 Phase II BUILDING BRIDGES capital campaign. Individual donors giving $2,000 or more will have their names engraved as "Bridge Builders" on the permanent Donor Wall at the China Garden site ($4,000 donation for businesses).
UPCOMING EVENTS – SAVE THE DATE

SAVE THE DATE:  September 23, 2023 35-year anniversary of St. Paul-Changsha sister-city relationship and Twin Cities Harvest Moon | China Garden Abiding Love Celebration!

"Follow Us" on Facebook at St. Paul-Changsha China Friendship Garden at Phalen Park.