MCFGS HONORARY ADVISORY COUNCIL

Advisor Mayor George Latimer
Advisor Mayor George Latimer was the Mayor of St. Paul from 1976 to 1990. He is known for his redevelopment of St. Paul's downtown core, serving as mayor during a period when St. Paul's population was declining somewhat as some residents moved to suburban areas while the city's ethnic diversity increased as, among others, Hmong refugees from Vietnam and Laos resettled in Saint Paul. He served as dean of Hamline University's law school from 1990 to 1993. Latimer was also CEO of the National Equity Fund, which manages and provides affordable housing in 35 cities. He also worked in the business world, served as a Regent of the University of Minnesota, and worked as an arbitrator.
Advisor Carol Brash
Advisor Carol Brash is an Associate Professor of Art History at the College of Saint Benedict/Saint John's University, where she has taught in the Department of Art and the Asian Studies Program since 2008. She has also served as Director of the Asian Studies Program.  Dr. Brash holds a PhD from the University of Minnesota. Her dissertation was "Keeping the Past Present: Representations of Ming Dynasty Gardens." She has presented at a number of conferences on the topic of Chinese Gardens and Landscapes. Her related publication is, "Classical Chinese Gardens in Twenty-first Century America: Cultivating the Past," ASIANetwork Exchange: A Journal for Asian Studies in the Liberal Arts Vol 19, No 1 (2011):17-29.
Advisor Carole Hyder
Advisor Carole Hyder is an internationally recognized consultant, speaker, teacher, author and trainer in the field of Feng Shui. Her Integrated Spaces Strategy™ combines ancient practices with modern research to create superior environments in both commercial and residential settings. Carole has been a Feng Shui consultant since 1992, having studied with His Holiness Grandmaster Thomas Lin Yun, Her Holiness Crystal Chu Rinpoche, and Roger Green, all master teachers in their respective philosophies of Feng Shui. Her innovative work has been incorporated in hundreds of residential and commercial environments. In 1998, Carole founded The Wind and Water Center which offers programs and classes for those interesting studying Feng Shui. Carole has written three books: Wind and Water; Living Feng Shui; and Conversations with Your Home. She has also produced a video/DVD entitled The Science of Feng Shui. Her recent collaboration with Grammy-winning producer and musician Jeff Bova has produced two CDs: Harmonize Your Home and The Bridge Home, both created with the express intention of incorporating positive Feng Shui principles in the space. Carole received an MA in East Asian Studies from the U of MN in 2006.
Advisor Barbara Harrison
Advisor Barbara Harrison is a founding board member of the MN China Friendship Garden Society (2005). She has been a member of US-China Peoples Friendship Association-Minnesota (USCPFA-MN) since 1979, USCPFA-MN President 1989-1991, and USCPFA-National President 1991-2005. In 2005, USCPFA bestowed its highest award, the Koji Ariyoshi Award on Barbara. In 2004, Barbara was the 5th American awarded the title of Friendship Ambassador by the Chinese People's Association for Friendship with Foreign Countries, Beijing, China. She holds AA and BA degrees from the University of Minnesota and was named a U of MN College of Liberal Arts Notable Achievement Honoree. Barbara is a lifetime U of MN Alumni Association member. Since 1986, she has traveled to China more than 25 times, the most recent being in November 2018 to attend the Friendship Forum in Hainan, China.
Advisor Joyce C.Y. Yuan Hsiao
Advisor Joyce C.Y. Yuan Hsiao (Mrs. C.C. Hsiao) is a founding board member of the MN China Friendship Garden Society, as well as of US-China Peoples Friendship Association-MN. She is a retired scientist, who holds a Bachelor's Degree in Chemistry from Fu Jen University, now Beijing Normal University, and received her Master's Degree in Chemistry and Ph.D. in Biochemistry from the Pennsylvania State University. She conducted research at the University of Pittsburgh and the University of Minnesota. She was a visiting scholar in Nobel Laureate Lord Todd's laboratory at Cambridge University, England. During her extensive travels in Europe and Asia, she was particularly enamored by the beauty of the gardens, which has inspired a lifelong interest in gardening. She was the first Asian American appointed by the Governor of Minnesota to serve as a member of the Minnesota Governor's Residence Council.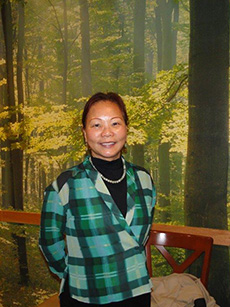 Advisor Brenda Fong
Advisor Brenda Fong is a strong advocate for diversity both at work and with the MN communities and has a wealth of fund-raising experience.   Brenda joined and helped form an "Asian Connection Team Members Network" at Wells Fargo in 2003.  She was Chair in 2006 and 2007, and stayed as an advisor after 2008.  The purpose of Asian Connection is to bring the rich Asian cultures to Senior Management and to promote awareness to all.  Brenda joined forces and partnered with Target, Best Buy, Medtronic, Ameriprise Financial and General Mills to form the "MN China American Business Association"  from 2005-2008, and helped raise funds to host 2 events each month to promote awareness and increase opportunities for Asian Americans within their companies.   Brenda's most passionate project is the Phalen Park Dragon Festival.  She joined the Dragon Festival in 2003, participating on the boat team and as the funding manager for Wells Fargo.  She was selected as the Dragon Festival Chair and Co-Chair for 2004 to 2007 and as the Funding Manager and Advisor to coach the new Chair since 2007.   She helped promote and raise funds of up to $90,000.00 each year.  Brenda's latest project is to help and coach the Chinese Senior Citizens Society's Leadership team on raising funds and continuing the support of the Chinese Senior Citizens Society to ensure the monthly luncheons and the free services can happen and help these seniors maintain their independence.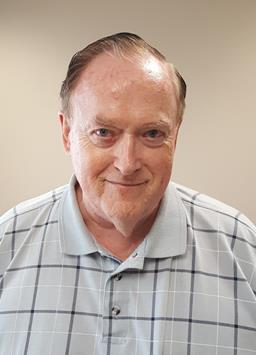 Advisor Bill Harrison
Advisor Bill Harrison is a Civil Engineering graduate from University of Minnesota and a lifetime member of the Alumni Association. He is a registered Structural Engineer in Minnesota, Florida, Colorado and Wisconsin. Although Bill has retired as Vice President of Construction for Target Stores, he is currently President of Harrison Development, Inc. He has developed hotels, office buildings, warehouses, banks, shopping centers, a marina, clinics and condominiums. He is a Construction consultant for Target Stores and Bob Ulrich, former CEO of Target Stores. Projects include Target's downtown Minneapolis headquarters; office buildings in Phoenix, Arizona; office buildings and data centers for Target in Brooklyn Park, Minnesota; office space for Target in downtown Manhattan, New York; the Musical Instrument Museum for Bob Ulrich in Phoenix, Arizona; partial remodel of the Minneapolis Institute of Arts (MIA) and the addition of the new Target Wing; and various high end residences in Minnesota and Arizona. The MIA expansion of Chinese galleries in 2006 resulted in the naming of Gallery 201 as The William and Barbara Harrison Gallery.
Advisor Caroline Hsiao Van
Advisor Caroline Hsiao Van is an independent advisor based in Hong Kong and the USA. Her career experience includes business development, senior management, sales and trading, and strategic planning at Morgan Stanley, Citibank, Bankers Trust, First Chicago Bancorp, and advisory roles at internet startups. She holds a BA from Yale and an MBA from the University of Chicago. A veteran in volunteer services, she has worked on boards of educational, environmental, and music organizations, and served on the Board of Governors of the Yale Alumni Association, and as President of the Yale Club of Hong Kong. She is the Director for Hong Kong of the Yale Alumni Schools Committee. Her interest in US-China friendship began during a family trip to China in 1973 sponsored by the U.S. Academy of Sciences and National Science Foundation. A passion for the environment and youth empowerment led her to co-found China's Green Long March movement for sustainable development. She was first exposed to open space management while working successive summers for the St. Paul District, U.S. Army Corp of Engineers.
Advisor Bill Pesek
Advisor Bill Pesek is a member of the American Society of Landscape Architects, ASLA and is a licensed landscape architect in the State of Minnesota. His professional experience spans over 40 years with the St. Paul Parks and Recreation Design Section and involves numerous parks and playground projects including Phalen Park, Como, Highland and Crosby Farm Park. He was author of the Como Conservatory Master Plan and co-author of Street Tree Master Plan and project manager/landscape architect for Highland Park Redevelopment, $13M Restoration of the Como Conservatory, $17M Oxford Community Center Development, and Restoration of the Charlotte Ordway Japanese Garden in Como Park and now continues in his own landscape architectural practice. His work has taken him to Japan and China where he collaborated with a Master Landscape Architect, Masami Matsuda from Nagasaki on the restoration of the Japanese Garden in Como Park.   Over the last 10 years, he has been working with China Garden Society, and selected and recommended a building site and was instrumental in having the Chinese Garden concept and site location included in the Phalen Regional Park's Master Plan of 2011.   He has received numerous awards and traveled to China in 2008 to wtiness the signing of a historic Sister City Friendship Rededication Declaration with Changsha, while serving as an official Mayoral delegate with Mayor Chris Coleman.
Advisor Christine Podas-Larson
Advisor Christine Podas-Larson is a recognized leader and innovator in the arts with expertise and broad experience in multiple-media public art production. In 1987 she founded the non-profit Public Art Saint Paul (PASP) and served as its President/CEO and Executive Producer for 28 years. She forged and sustained a nationally unique public/private partnership with the City of Saint Paul and was the chief author of Saint Paul's cutting edge public art ordinance. She conceived of and nurtured growth of the unique City Artist program that brought forth award-winning projects such as Sidewalk Poetry, Urban Flower Field, and Meeting Fleet. Since retiring from PASP in 2015, Christine is a sought-after and compelling speaker and educator, offering expert perspective on the role of artists in shaping cities and in fostering social and environmental change. She produced the 2006 International Stone Carving Symposium that brought Master Lei Yi Xin and other artists from around the globe to carve sculptures from Minnesota rocks. The experience led directly to Master Lei's commission to create the Martin Luther King, Jr. Memorial in Washington DC. In response to a hideous hate crime in 2008, she produced Marcus Young's Unity Ceremony at Phalen Park, healing the community by turning "fear into fearlessness."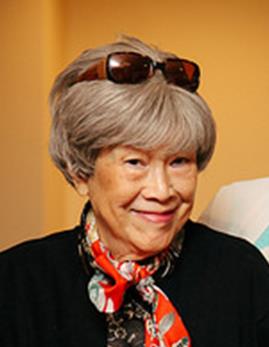 Advisor Ming Tchou
Advisor Ming Tchou was born in Guangzhou, China, and came to the U.S. in 1953 with her husband. She is an entrepreneur, global thinker, and dedicated volunteer. She is a founding member of the Chinese Senior Citizens Society and was its first president for 10 years.   Between 1984-1996, she led many group tours (over 10) to China, including the first one from the Midwest organized by the U.S. China People Friendship Association (USCPFA), another organization of which she was a founding member.   She is the recipient of numerous awards, among them the leadership award from the Council of Asian Pacific Minnesotans. She is the founder of the Chinese Heritage Foundation established at the Minneapolis Foundation and the inspiration for the commissioning and funding of the "Dream of the Red Chamber" opera and its world premiere in San Francisco in September 2016.
Advisor Pa V Thao
Advisor Pa V Thao served on the MCFGS Board from August 2021 to July 2022, and continues to serve on the MCFGS Hmong Advisory Council.  She was born in Laos and migrated to the United States with her family after the Secret War as a refugee when she was only nine years old. She spent her childhood in California and then moved to Minnesota when she got married. Then she went on to get six certifications with Neiman Marcus for high-end fashion tailoring. Now, Pa currently works as an Operations Manager in the heart of North Loop Minneapolis. She played a key role as a member of the MCFGS Art Stones Committee.
Advisor Ganying Jeff Vang

Advisor Ganying Jeff Vang is employed as an Insurance & Financial Services agent (independent agent).  His native language is Hmong, and also speaks Thai/Lao, Mandarin Chinese, and English.  He received a BA in East Asian Studies from the University of MN, Twins cities.  He is an active volunteer for:  1) HBC TV host (Hmong Twins cities public Television) (since 2009); 2) Board member for Temple of Hmongism, a Hmong Traditional religious organization (since 2013); 3) Hmong Language and culture researcher (Hmong language Inc) (since 2012).  He has been to China three times. One time as a student to Nankai University 1997 and two times in 2014 & 2015 to do research on Hmong/Miao language and culture in three provinces of Yunnan, Guizhou, and Guangxi.  Jeff is the liaison for of the MCFGS Hmong Cultural Plaza Advisory Group.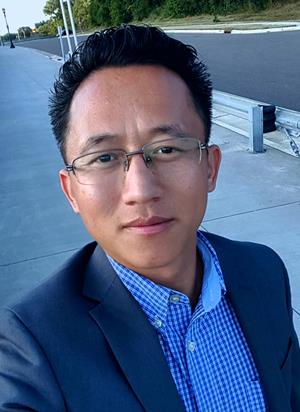 Advisor Noah Vang
Advisor Noah Vang is a community researcher and volunteer based in St. Paul, Minnesota. He is an author of a 412-page book entitled General Vang Pao: An Illustration of His Remarkable Life and co-curated the national award-winning exhibit "We Are Hmong Minnesota/Peb Yog Hmoob Minnesota" at the Minnesota Historical Society (2015). Vang is a Hmong history enthusiast. Throughout his research, he has gathered one of the largest Hmong photographic collections of his people's experiences in China, Laos, in the refugee camps in Thailand and the United States; and he has contributed his works to several institutions nationally for their exhibits.
Advisor Wang-Yu Vu

Advisor Wang-Yu Vu is an entrepreneur and is the broker of Wang-Yu Realty, LLC since 2002.  He is also currently working for the MN DFL Party as the AAPI Community Engagement Director for the 2020 election cycle.  He earned a Bachelor of Arts in Computer Information Systems from the Metropolitan State University in 1999. He has unselfishly devoted a lot of time to public service, community service, and family service.  From 2002 to 2016, he served on the board of the Vue Family of MN organization. In 2016, Wang-Yu and his wife, Maychy Vu, were the first Hmong American couple to become both MN DFL state delegates and the first Hmong American couple in the country to become both national delegates at the Democratic National Convention for Hilary Clinton.  Today, Wang-Yu Vu is proud to be one of the founders of the Peb Hmong American Caucus.  He is currently serves as the president of the caucus.
Advisor Walter S. Warpeha
Advisor Walter S. Warpeha Jr. D.D.S. is a recently retired Prosthodontist with a 50 year career of private practice including Clinical and Adjunct Professor at the U of M School of Dentistry, Panel Member representing Prosthodontics at the Cleft & Craniofacial Clinics of the U of M and also Children's Hospital of Minneapolis, Prosthodontic Consultant for the MN Board of Dentistry and Delta Dental of Minnesota. His lifetime of contributions to the Specialty of Prosthodontics was nationally honored with the 2013 Distinguished Service Award from the American College of Prosthodontists. He also has been active in his community serving on the boards of Northeast Bank and East Side Neighborhood Services. His China connection is mainly though his wife's activities with US-China Peoples Friendship Association, Passage to China, and Sister Cities work with Harbin and Changsha, amd traveling to China several times. He and Mary have offered their home to host numerous delegations including dignitaries such as the Major of Harbin, Conciliate Director, Chicago Region, and Changsha Sculptor Lei Yixin.
In Memoriam
Advisor Walter Graff (2023)


Advisor Weiming Lu (2022)

Advisor Dr. Robert D. Jacobsen (2021)