CHANGSHA GARDEN HISTORY
The idea of a China Garden in Minnesota originated with Professor C.C. Hsiao 萧之㑺 and Linda Mealey-Lohmann 苗丽莲 in 2000 (pictured with Joyce Hsiao 袁昭頴, Founding Board Member, MN China Friendship Garden Society).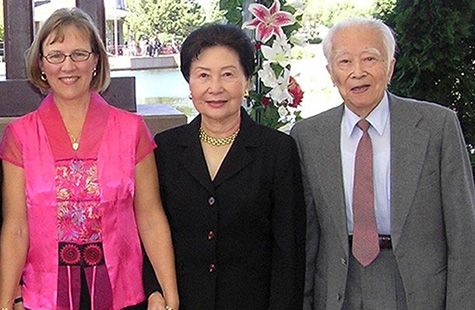 To learn more about the origin of the St. Paul-Changsha sister relationship (and the early work by Dr. Richard Bohr and Weiming Lu) and the history of the St.Paul-Changsha China Garden project, READ THIS ARTICLE.
Also, read "China Friendship Gardens in Minnesota," US-China Review Winter 2006:
USCRChn-Gardens2006
Also, read "
Key Highlights of China Friendship Garden
." 
Click here
.
______________________________________________________________________
1988 Mayor George Latimer and Weiming Lu Travel to Changsha to sign Sister-City Agreement

2008 Mayor Chris Coleman and Bill Pesek Travel to Changsha for 20th Anniversary
A Friendship Declaration was signed to commemorate the 20-year sister-city relationship.  That visit represents a turning point because Bill Pesek, Landscape Architect with St. Paul's Department of Parks & Recreation and USCPFA-MN member, presented for the first time the idea of creating a China Garden in St. Paul.
In 2011, the China Garden was approved by St. Paul, Ramsey County, and the Metropolitan Council as part of the Phalen-Keller Regional Park Master Plan, with the help of Bill Pesek and Bryan Murphy of St. Paul Parks & Rec.
In November 2014, Bill Zajicek, a community member and Vice President of the Payne Phalen Community Council, brought interested parties together in at a community meeting to gather input about community needs and interests in a China Garden at Phalen Park.  That led to House Representative Tim Mahoney and Senator Foung Hawj sponsoring joint legislation in 2015, which ultimately provided $50,000 Legacy Funds for the China Garden conceptual designs.
October 2015 Mayor Chris Coleman and MCFGS Representatives Travel to China and Sign Sister-Park Agreement
In October 2015, Co-Founder Linda Mealey-Lohmann and 3 Advisors – Brenda Fong, Bill Zajicek, and Romi Slowiak – traveled to Changsha with the St. Paul Mayoral Delegation to learn more about Changsha garden design and architecture style, and to learn more about Hmong culture in Changsha, the Ancestral Home to the Hmong in Minnesota. During that visit, a sister park agreement was signed between Phalen Regional Park and Yanghu Wetlands Park in Changsha.
In November 2015, the MN China Friendship Garden Society hosted a husband and wife architect team from Changsha, Jon Youhua WEN and Jennifer Junfang FAN (Changsha Hunan Jianke Landscape Company, Ltd.), during their stay in St. Paul to visit the Phalen Park site and to work with St. Paul Parks & Rec architects to create a concept design for the China Garden.
March 3, 2016 Community Input Workshop – View slideshow here
 
July 9, 2016, SITE DEDICATION.  A Site Dedication Ceremony was held during the opening ceremony for the Dragon Festival at Phalen Park, complete with a parade of lion dancers to the China Garden site where a Feng Shui Site Dedication ritual was performed by International Feng Shui expert Carole Hyder and a Hmong blessing was given by Hmong Elder Uncle Charles Vu.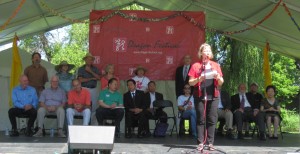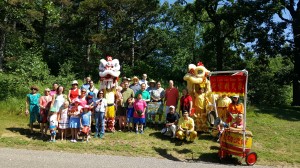 Speeches featured
former Mayor George Latimer
, who signed the 1988 Sister-City Agreement, China Garden Society President Linda Mealey-Lohmann, MN Senator Foung Hawj, MN Representative Tim Mahoney, St. Paul City Councilmember Dai Thao, Hmong 18 Council President Wa Houa Vue. Other Dignitaries included: Director of St. Paul Parks & Rec Mike Hahm, China Garden Society Board Members & Advisors: Joyce Hsiao, Mary Warpeha, Carole Hyder, Weiming Lu, Bill Zajicek, Romi Slowiak, Brenda Fong, Bill Pesek, Robert Jacobson, Jeff Wang; Liaison Noah Vang, Architects Alice Messer and Bryan Murphy.
Click here for full story.
July 20, 2017 St. Paul City Council formally approves exchange of sister-city gifts with Changsha. See City Resolution.
2018 Construction of the Xiang Jiang Pavilion and Hmong Heritage Wall Begins
(see Saint Paul Changsha Garden webpage for photos showing construction progress)
November 3, 2018 Xiang Jiang Pavilion Open House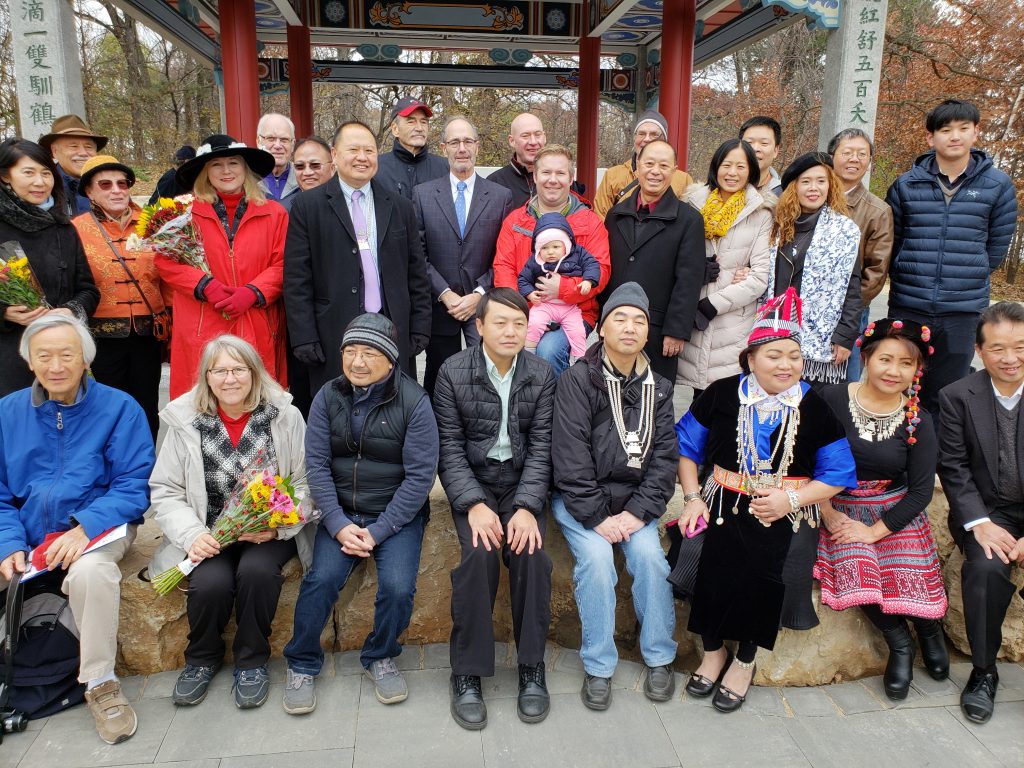 July 13, 2019 Grand Opening of Liu Ming China Friendship Garden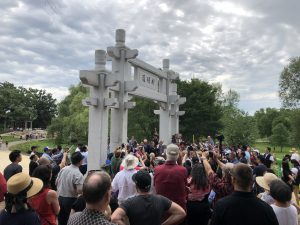 Slideshow: View of the Site as Planning Continues