ST. PAUL-CHANGSHA CHINA FRIENDSHIP GARDEN
OF WHISPERING WILLOWS & FLOWING WATERS

LIU MING YUAN | 柳明園 | LUB VAJ PHOOJ YWG

The MN China Friendship Garden Society welcomes you to visit the China Friendship Garden at Phalen Park (1.8 acre site) to enjoy the majestic Xiang Jiang Pavilion and elegant Hmong Heritage Wall (completed in 2018) and the West Entrance Archway (completed in 2019).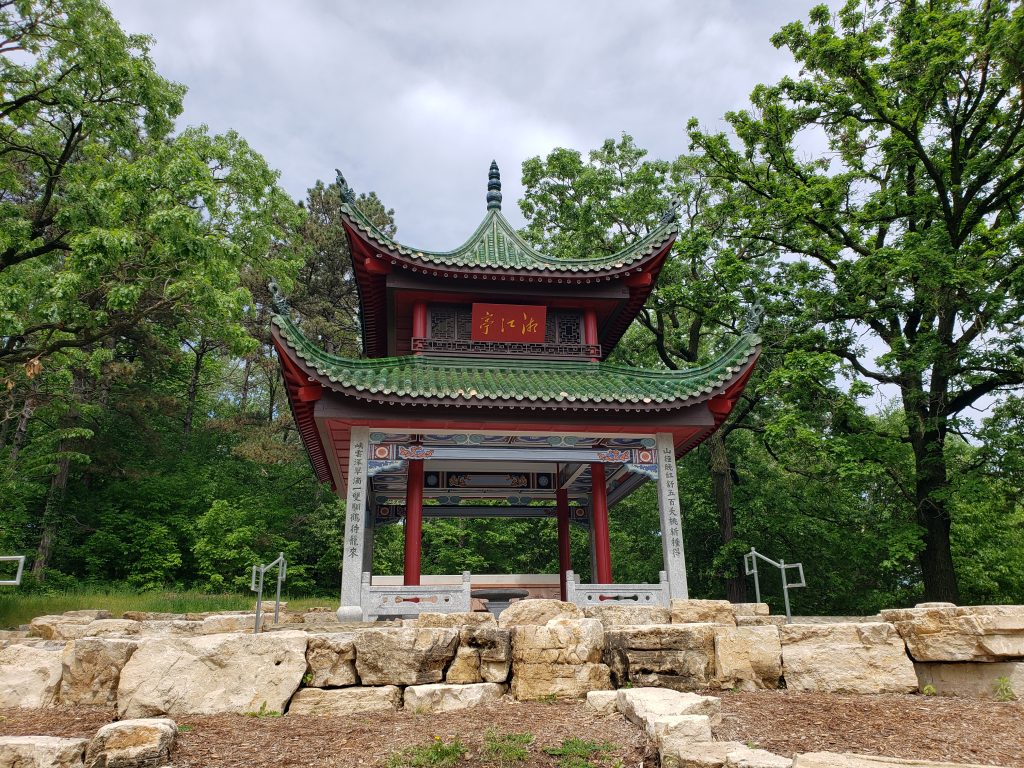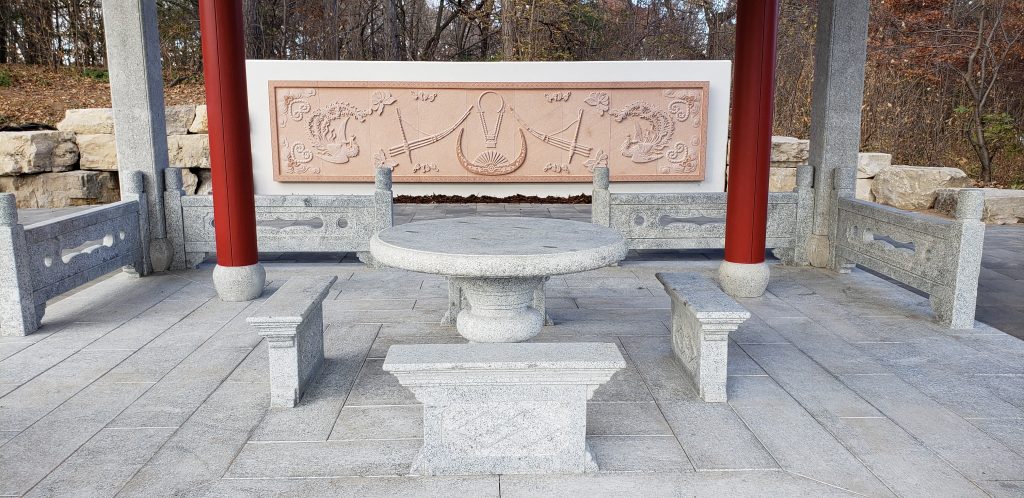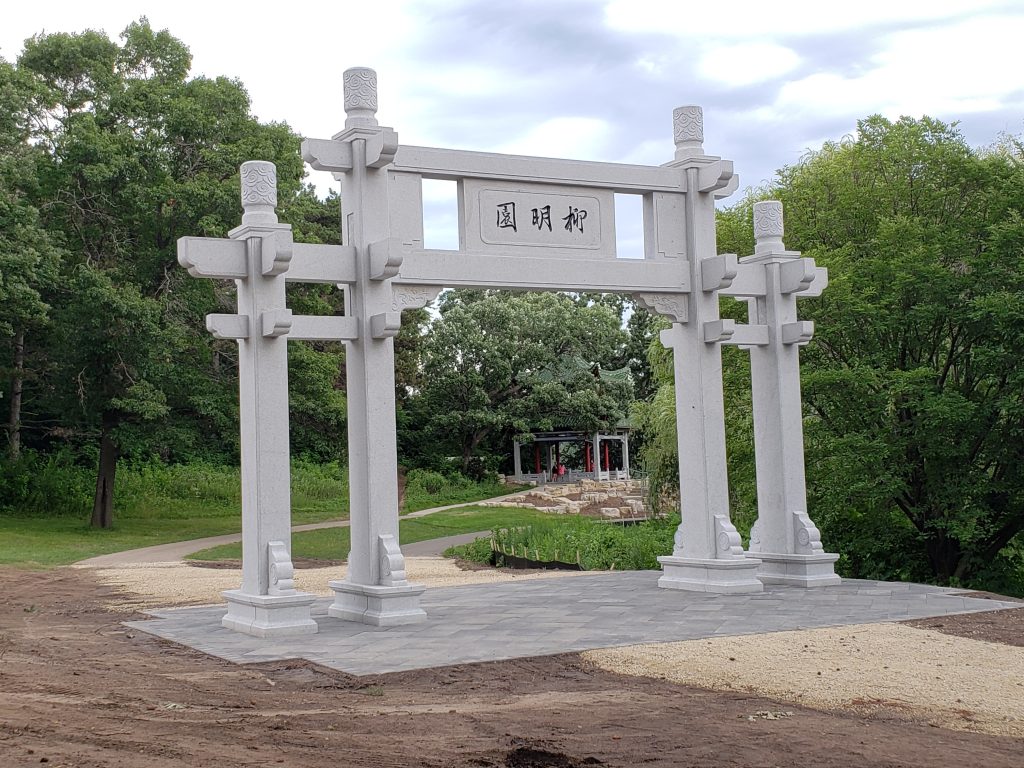 This is a sister-city collaboration initiated by the MN China Friendship Garden Society, with the City of Saint Paul Department of Parks & Recreation, Payne Phalen Community Council, with the City of Changsha, Hunan Province, the Changsha People's Association for Friendship with Foreign Countries, and the Changsha Yanghu Wetland Park (Phalen Park's sister park) in China. Changsha has been the sister-city to the City of St. Paul since 1988. It is also a collaboration between the Chinese and Hmong communities of Minnesota.

1624 Phalen Drive (park at 1624 Phalen Channel Parking Lot), St. Paul, MN Click here for MAP to China Friendship Garden Phalen Park location. Hours: 5:15am to 11:00pm. Free.
Watch this VIDEO to hear the history of Phase I and future of Phase II.
Watch this VIDEO for a walk through the 2016 conceptual plan for the entire China Friendship Garden.
Watch this VIDEO to see WHO loves the Garden of Whispering Willows & Flowing Waters and WHY! Hear 9 different answers from:
Brynnetta Wright, 27th year living in the neighborhood
Dr. Yang Dao, Hmong Community Leader
Kathleen Li Reitz, Attorney, Meager & Geer PLLP
Tou Ger Xiong, Comedian & Activist
Yin Simpson, Twin Cities Arts Supporter
Jane Prince, Neighbor & St. Paul City Council Member
Ping Wang, President of Hunan Folks Association of Minnesota
Bao Vang, Hmong Community Leader
Stuart Knappmiller, Ramsey Washington Metro Watershed District, Water Steward
Special Thanks to St. Paul Parks & Rec, Senator Foung Hawj, 
Mayor Melvin Carter, and Representative Tim Mahoney for their support
"Follow Us" on Facebook (Click here) & Instagram!
Click Here to view "Liu Ming Yuan Phase I | Community Users | Phase II Designs"
***************
May 2023 (& continuing) Hmong Cultural Plaza construction begins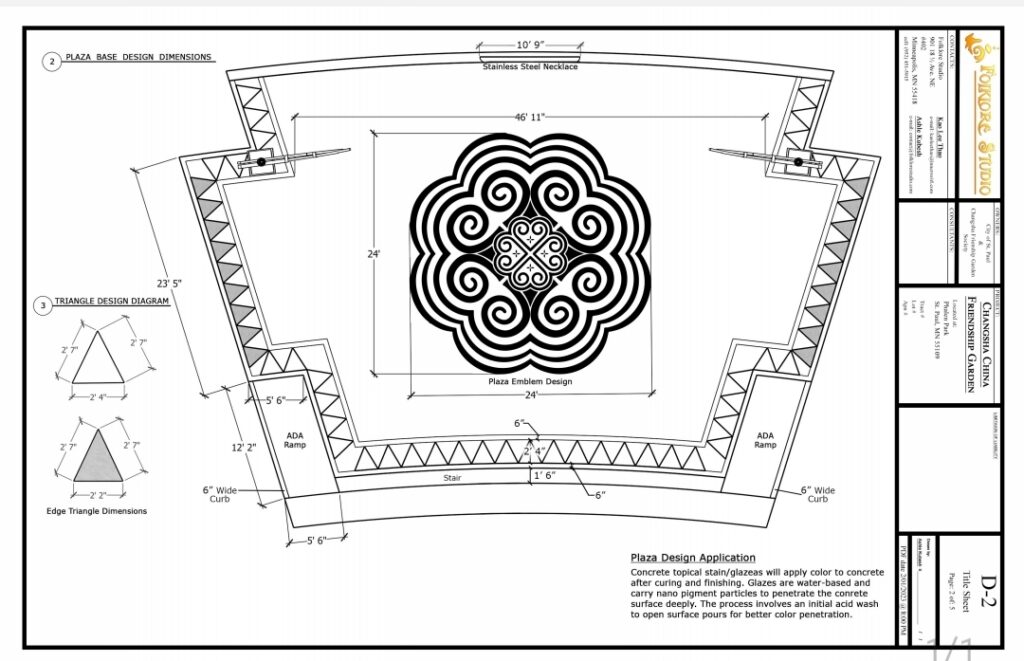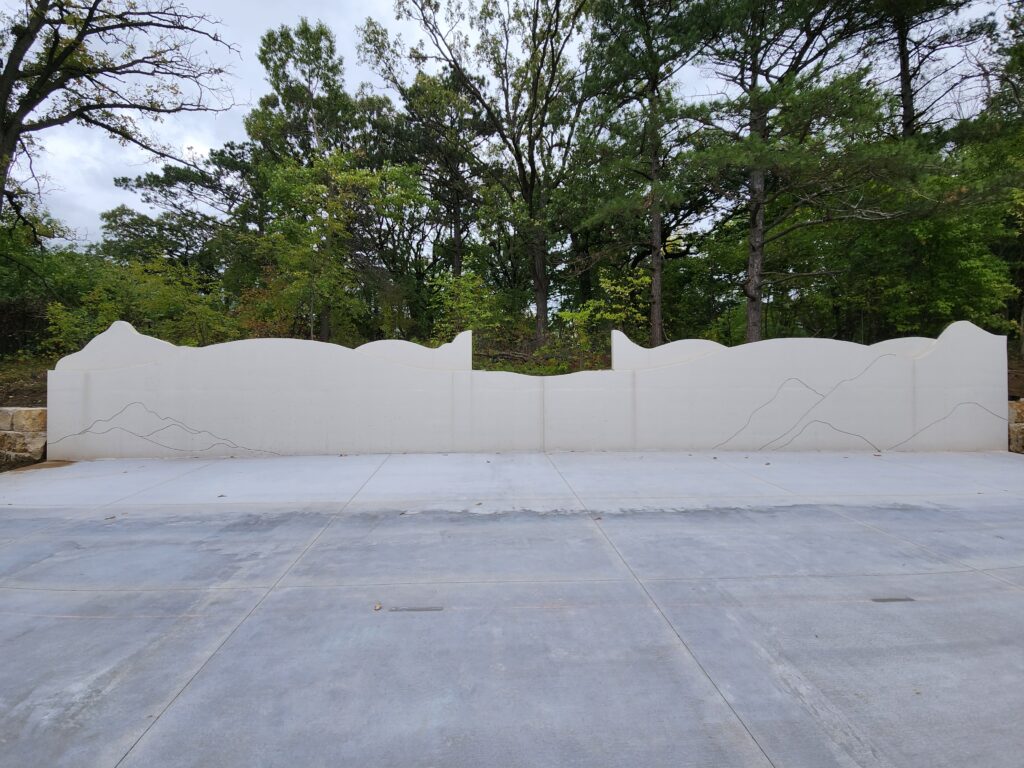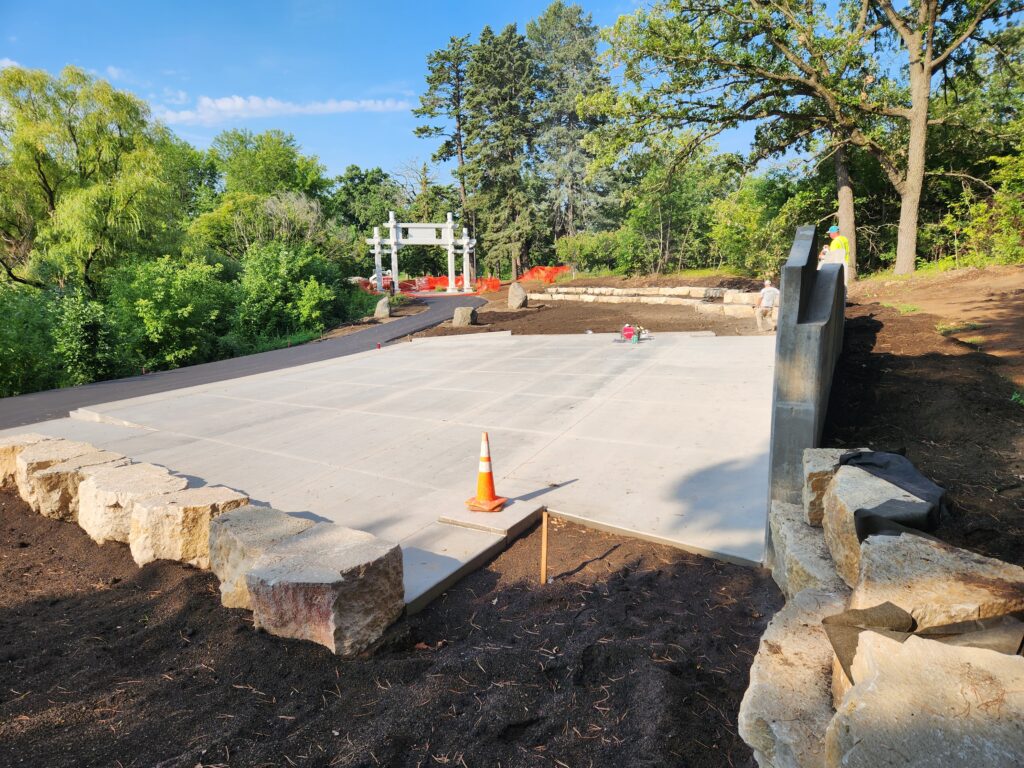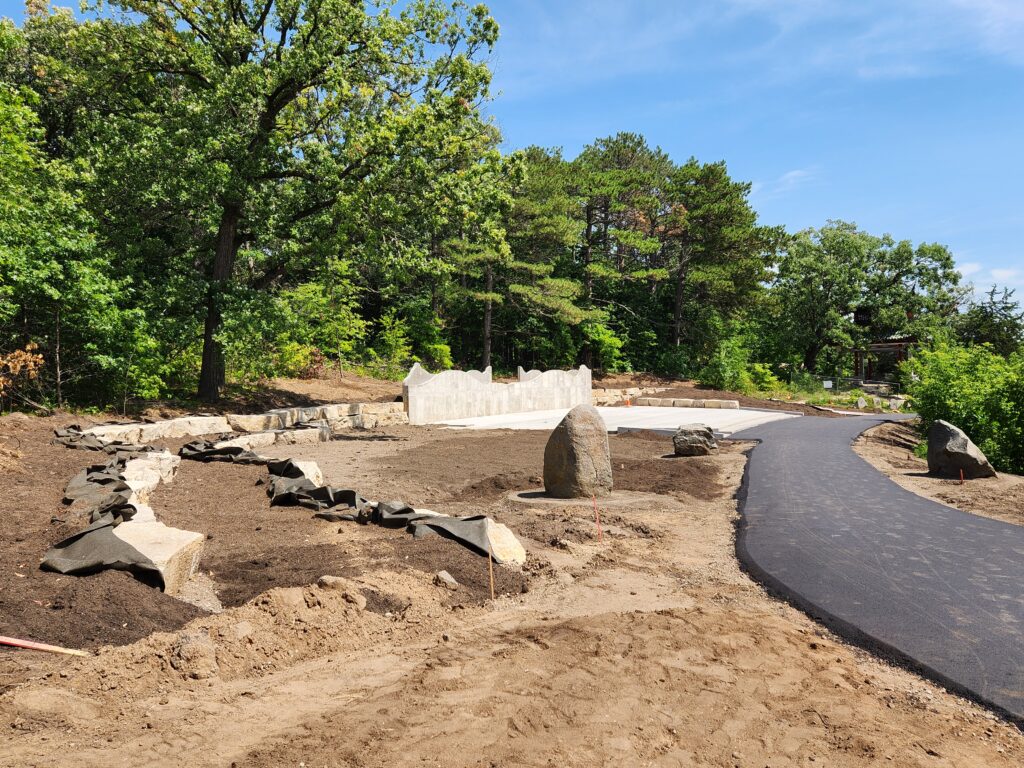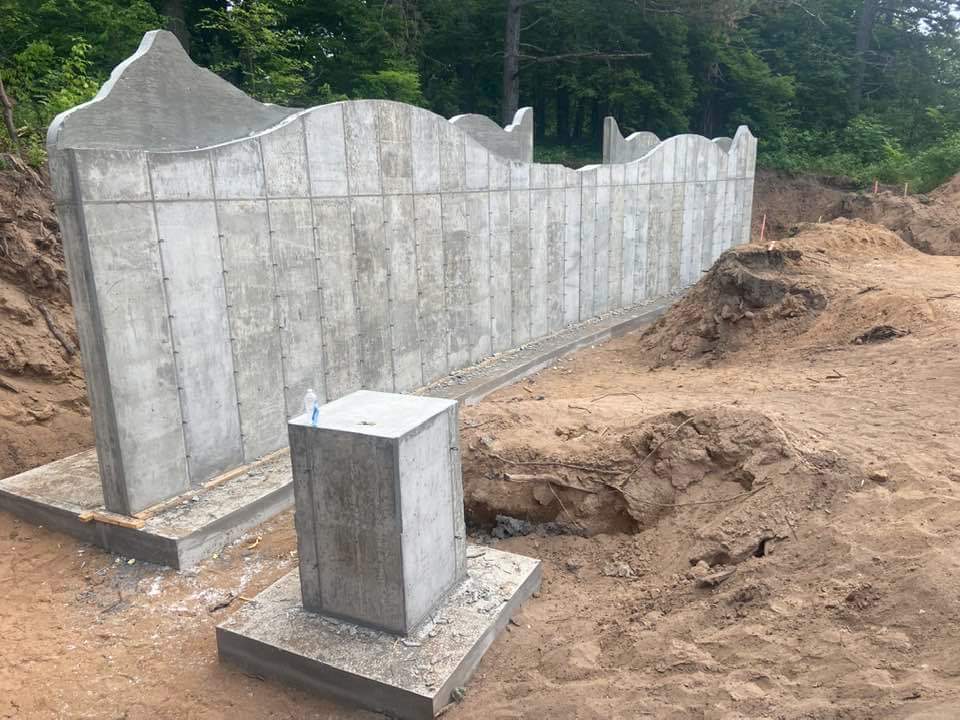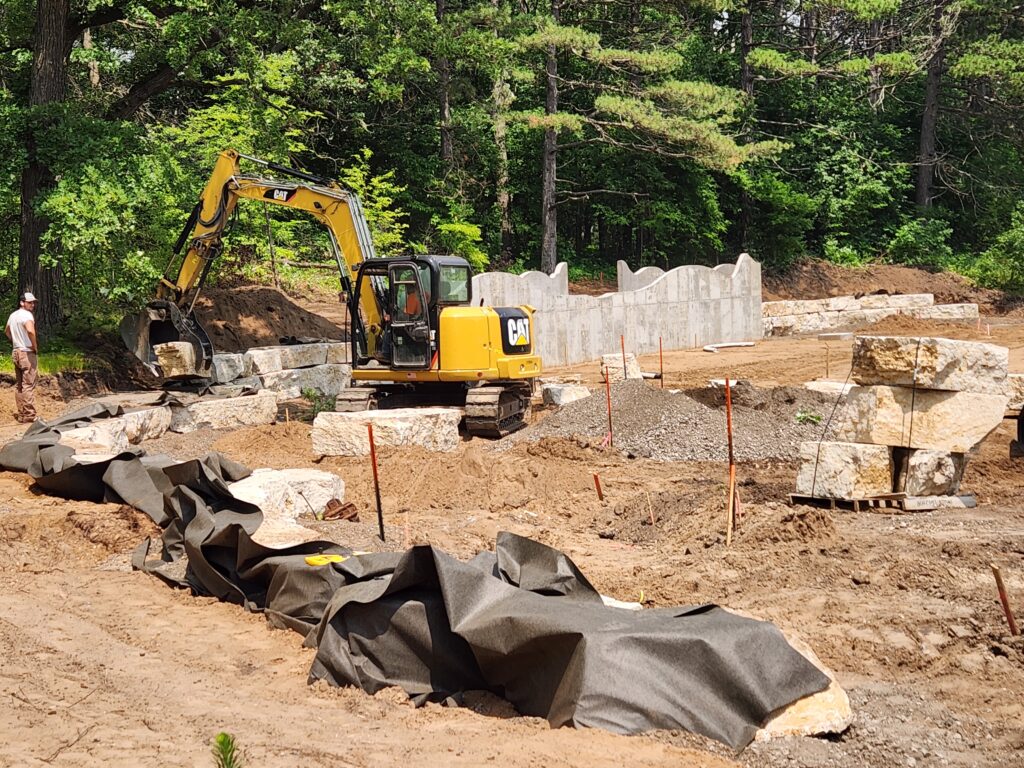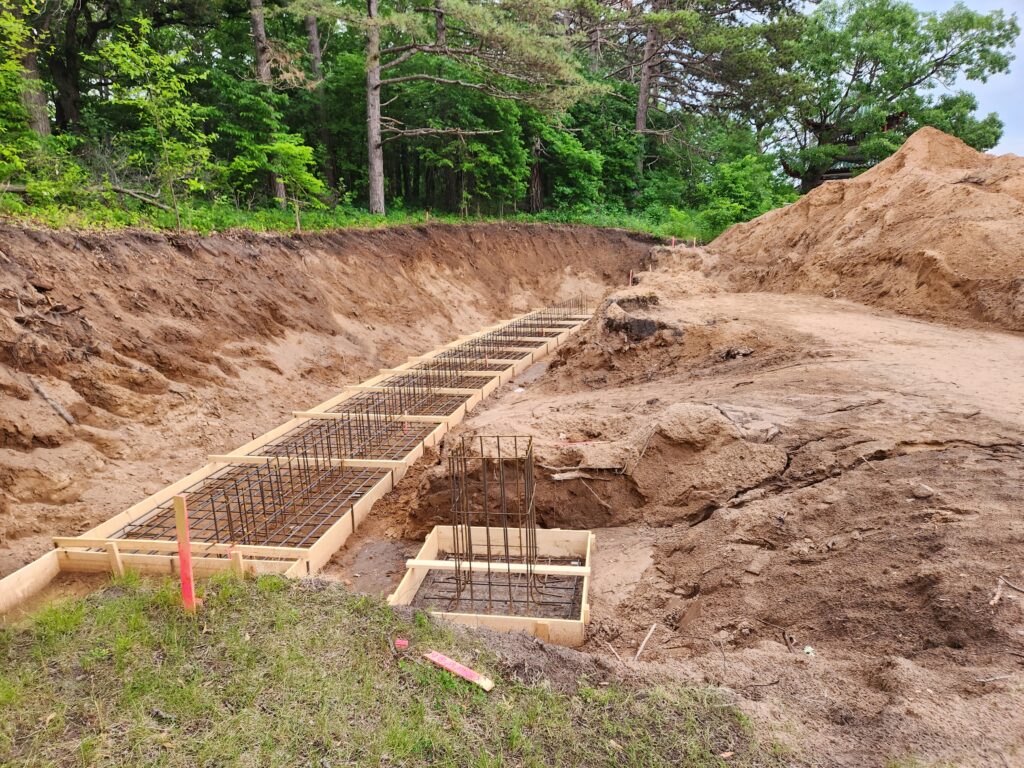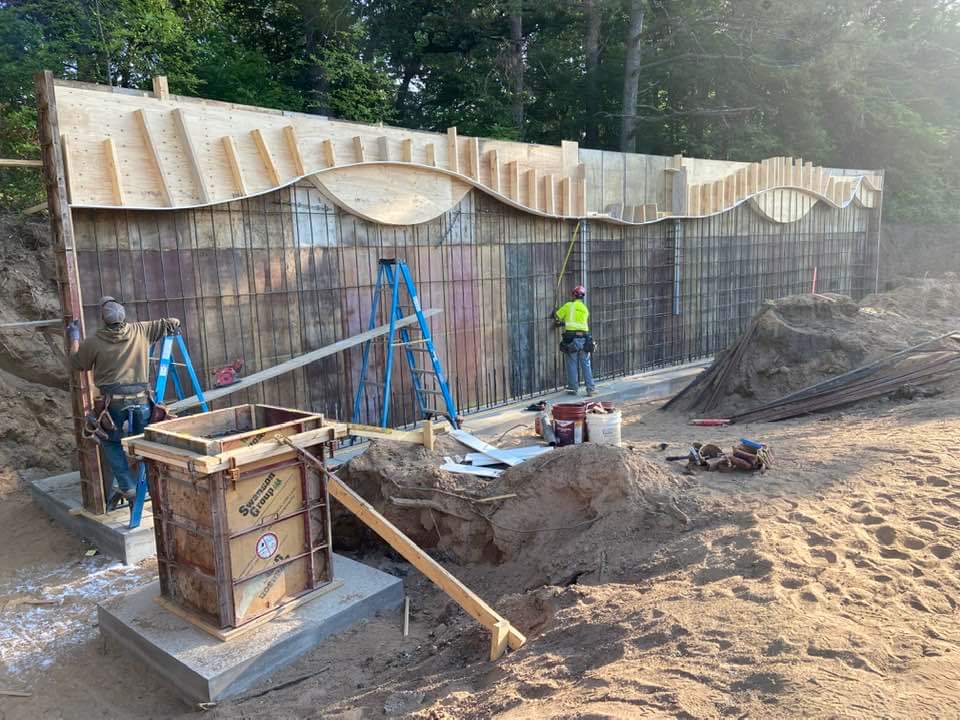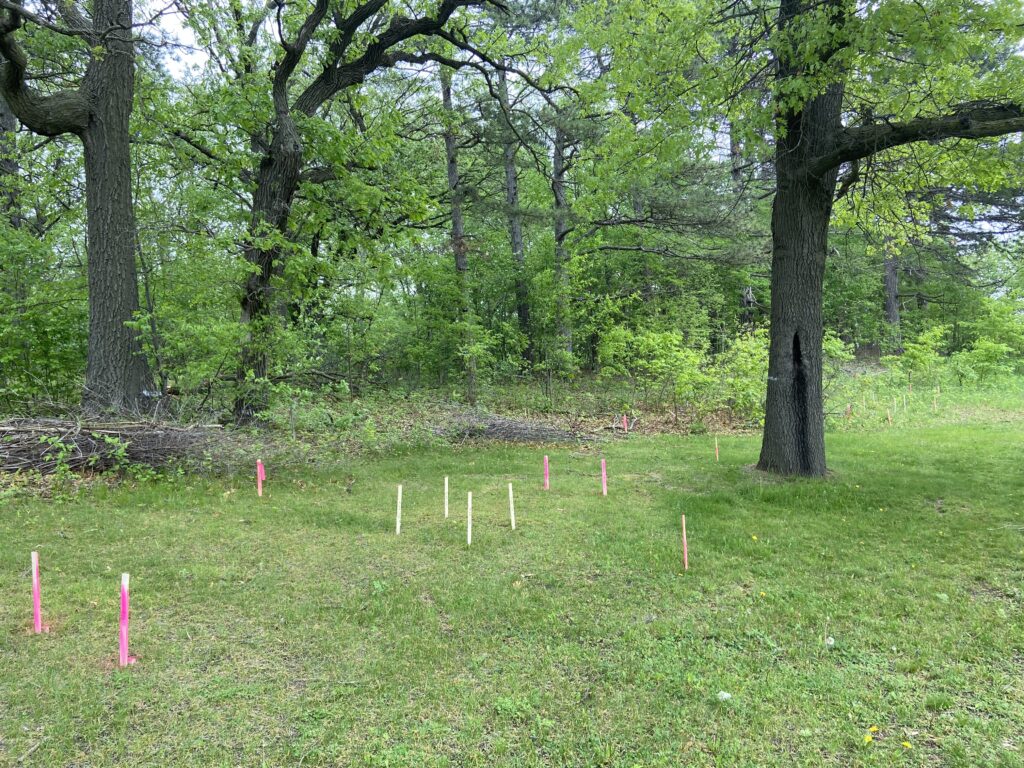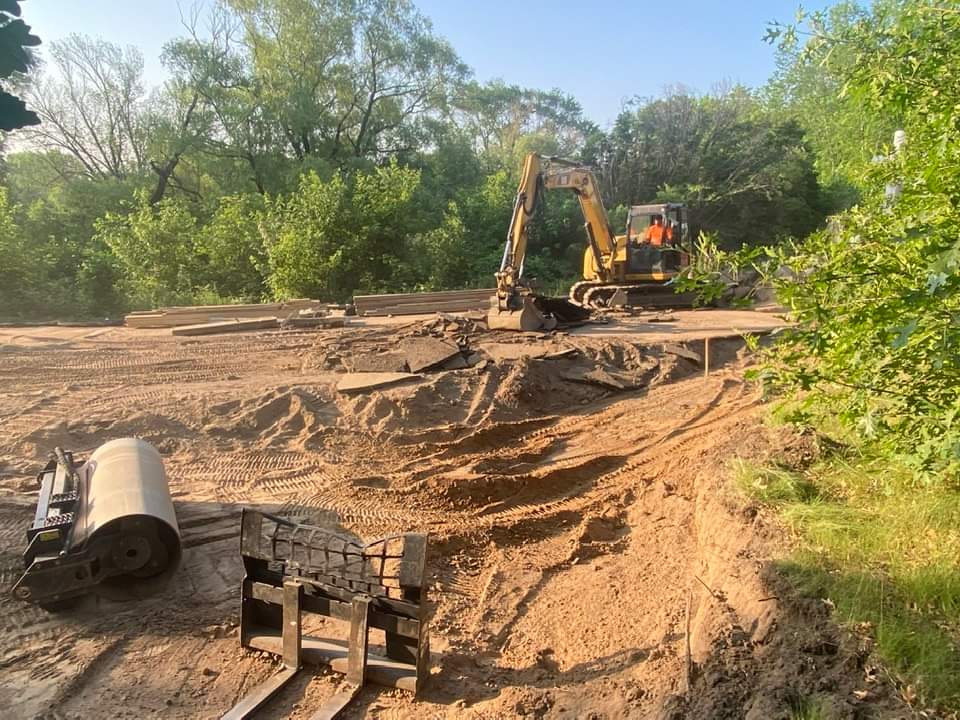 ***************
Spring 2023 Planting Event with Community Volunteers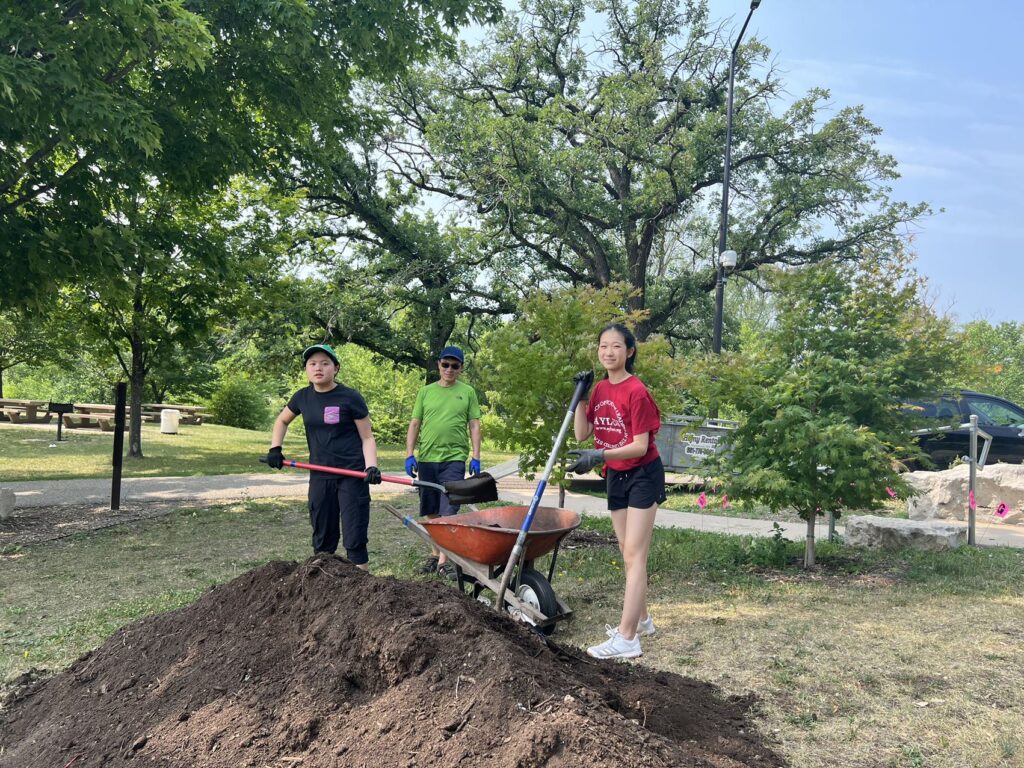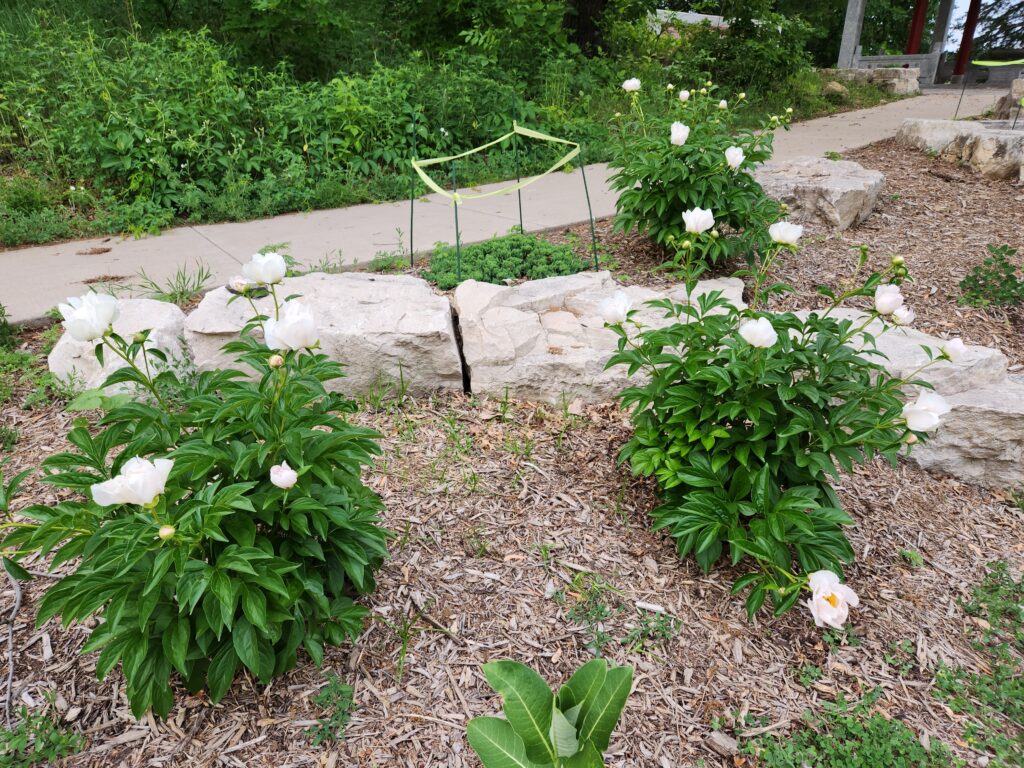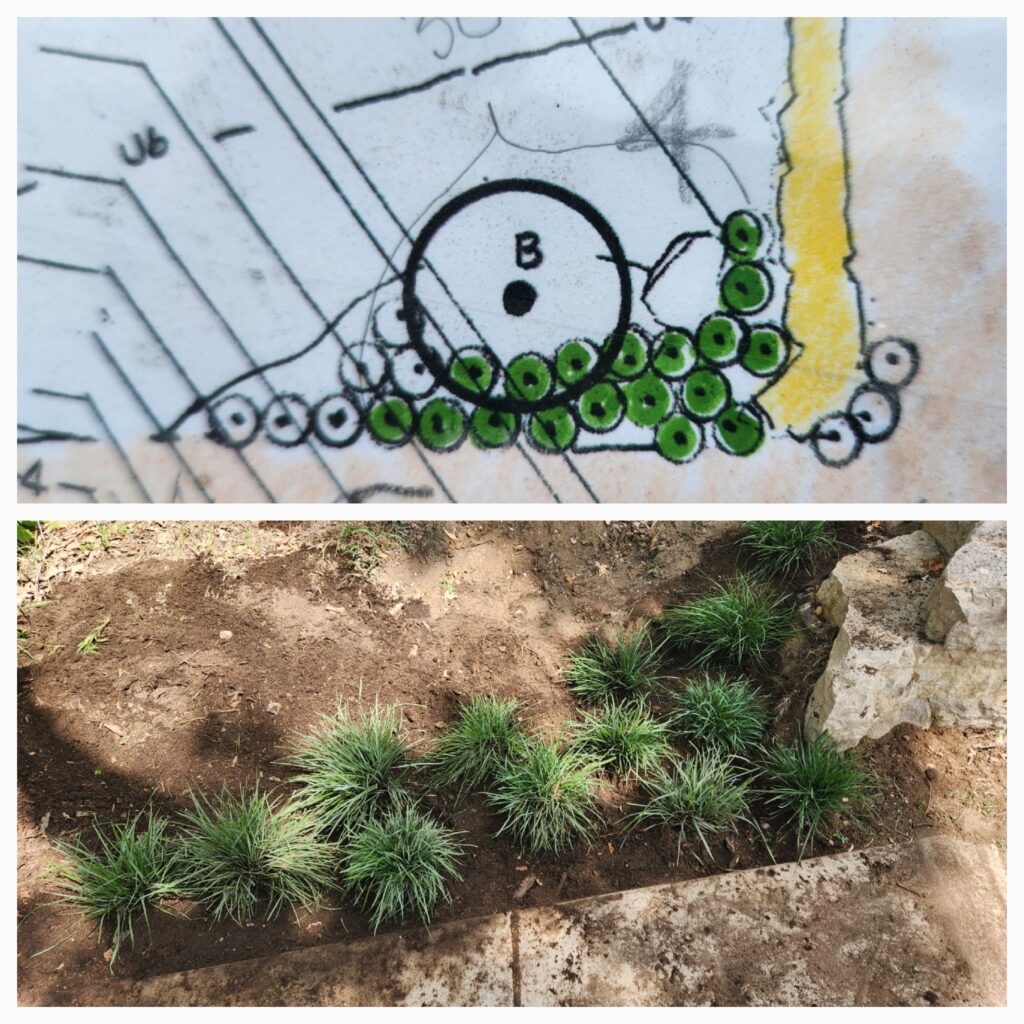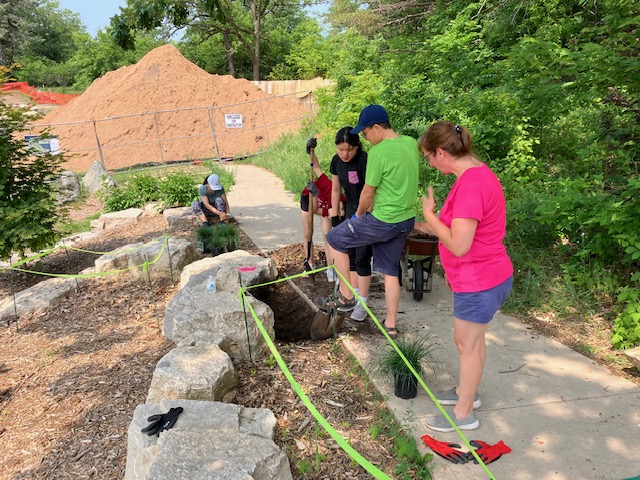 ***************
January 22 to February 5, 2023 Celebrations for Lunar New Year

Co-Sponsored Twin Cities Dumpling Feast with Association of Sino-American Neocultural Exchange (2/1/2023)

Co-Sponsored "Encounter in Liu Ming Yuan" by Choreographer Shen Pei at Mall of America (1/22/2023)

Co-Sponsored with Shen Pei – Chinese New Year Celebration at ArT@967 Payne (1/29/2023)
***************
January 7, 2023 Community Design Open House-Hmong Plaza
Keynote speaker: Councilmember Nelsie Yang; Presenter: St. Paul Parks & Rec Architect, Brett Hussong
Click here to view Hmong Plaza designs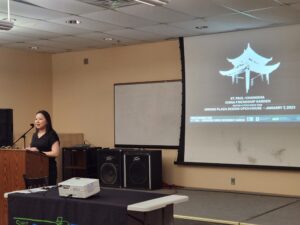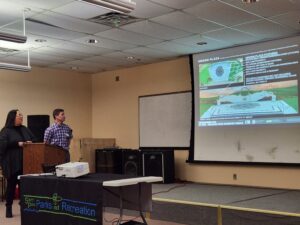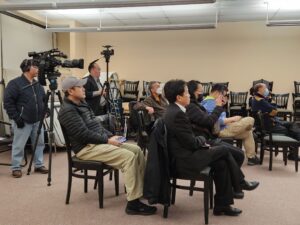 December 2022 MCFGS announces Phase II Features

October 2022 MCFGS mourns the passing of Advisor Weiming Lu

October 2022 Planting and Weeding Event

Thanks to all our gardening volunteers in 2022 who put in a total of 310 hours. In October, volunteers worked to "amend the soil," and plant 100 Siberian irises, and 5 peonies; as well as adding garden infrastructure in the form of small pump and hose reel to allow garden hose watering of the garden.
September 10, 2022, Twin Cities Harvest Moon | China Garden Abiding Love Festival, China Garden & Picnic Island



September 10, 2022, Poetry Contest Reading & Awards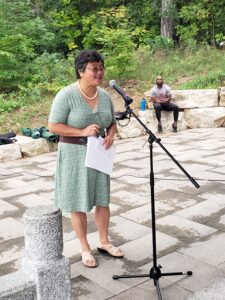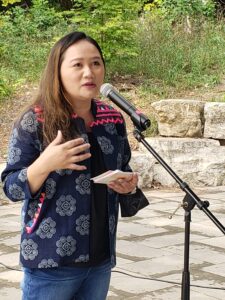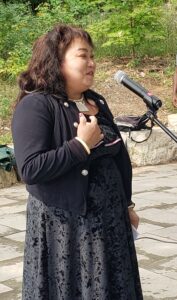 August and September 2022 World Premiere "Encounter in Liu Ming Yuan" created by Master Choreographer Shen Pei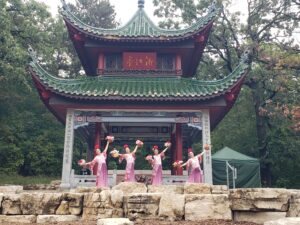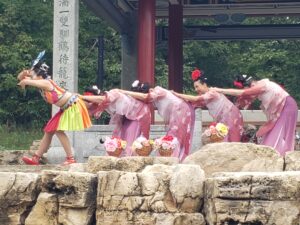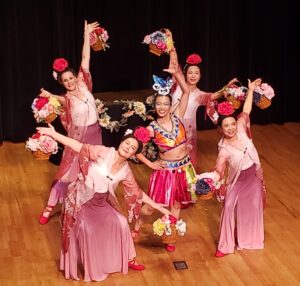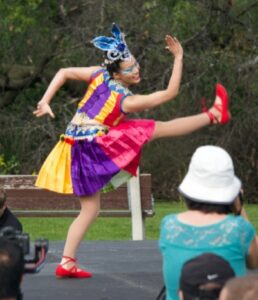 2021 to 2022 Design Advisory Committee analyzing site for Phase II

October 24, 2021 Chinese Feng Shui Blessing Ceremony for Phase II and 9 Art Stones by Carole Hyder, Feng Shui Master



Click here for a photo essay about the Feng Shui Blessing Ceremony
September 18, 2021 Art Stones Unveiling

Click here for a visual essay about the creation and installation of the 9 Art Stones.
September 18, 2021 Phase II Site Dedication

Congratulations to the 2021 Poetry Contest Winners!

September 18, 2021 is St. Paul – Changsha Sister City Day!

***************
May 2021 SPRING PLANTING – The Garden comes alive!


***************
July 2020 Preparing the Pavilion Gardens for dry bed streams and future plantings (Weeding Party)

November 2019 GARDEN NAMING STONE PLACED (temporary position)


November 2019 Donor Wall Pavers Completed

July 13, 2019 GRAND OPENING RIBBON-CUTTING CEREMONY at LIU MING YUAN CHINA FRIENDSHIP GARDEN



For speech by Senator Foung Hawj – Click here.
Reflection on Why it Matters: A Symbol of World Peace by the Hsiao sisters, Karen H Ashe and Caroline H Van (daughters of Professor C.C. Hsiao, Co-Founder of the MN China Friendship Garden Society). Download Here.

Congratulations to Kathryn Kysar for her Winning Poem in the First Annual Qu Yuan Poetry Contest at Xiang Jiang Pavilion! Click here for "A Summer Stroll at the Pavilion." Congratulations To Runner-Up Andrea E. Johnson; Honorable Mention Tom Odendahl and Dai Thao.
July 12, 2019 GRAND OPENING GALA BANQUET


Co-Founder Joyce Hsiao accepting C.C.Hsiao Vision Award (presented by Co-Founder Linda Mealey-Lohmann) (left); Saint Paul Mayor Melvin Carter gives Keynote Welcome Address (right)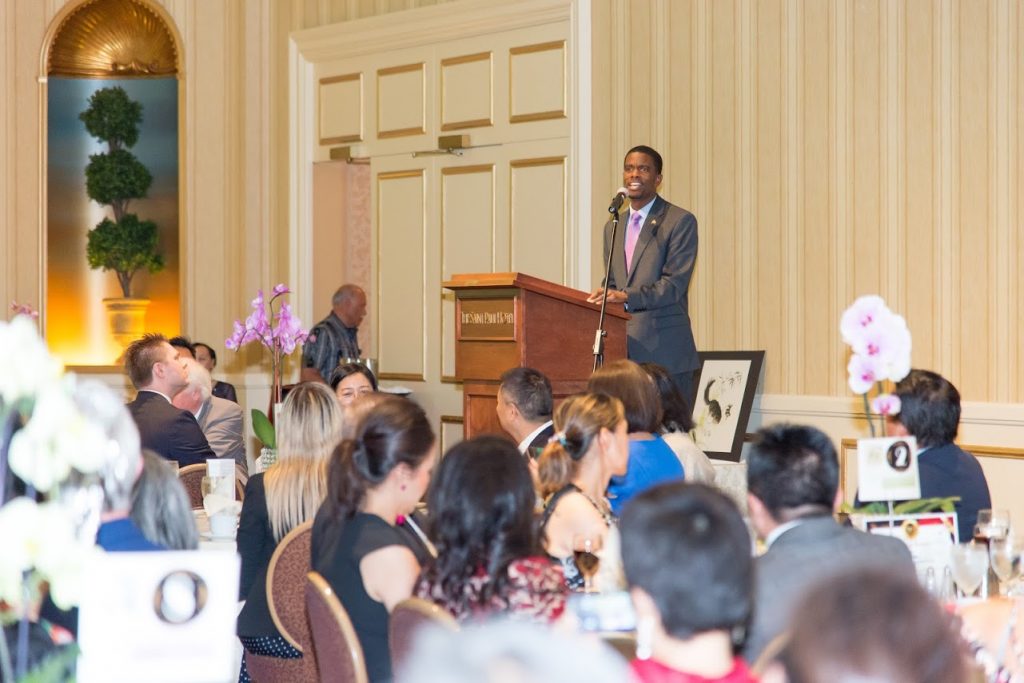 *******************************************************************************
July 2019: West Entrance Archway Installed

June 2019: West Entrance Archway Construction began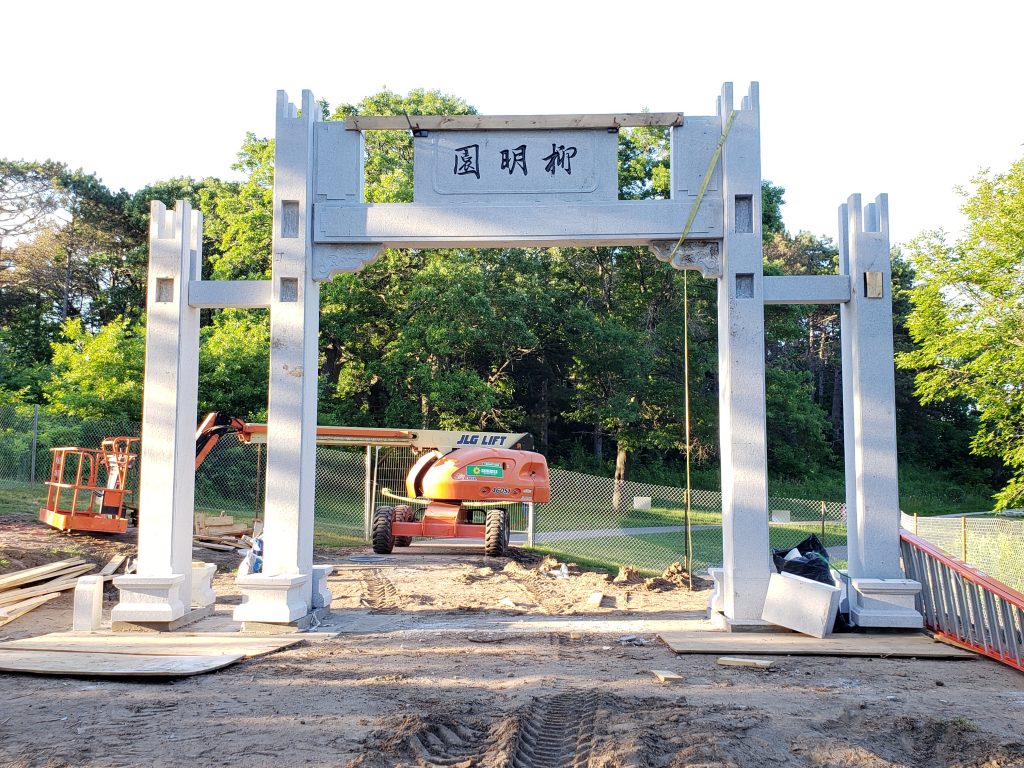 January 2019: Beauty in the snow!
Xiang Jiang Pavilion photo by Bryan Murphy, Architect-St. Paul Parks & Rec
Click here for photographs of Xiang Jiang Pavilion by Photographer Jun Xue
View a Video of 2018 Progress (produced by Nick Nelson)
Click here for details about St. Paul's Sister-City Gift to Changsha – the 5 Peanuts Characters statues.

Liu Ming Yuan rises
With her stunning Xiang Jiang Ting!
Let friendships flourish.
Haiku Poem written on the occasion of the 11/3/2018 Open House by Caroline Hsiao Van, daughter of Prof. C.C. Hsiao, Co-Founder of MCFGS.
November 3, 2018: China Friendship Garden OPEN HOUSE

Click here for 11/3/2018 Open House Photo Collage.

October 13, 2018: Scaffolding is taken down & Landscaping begins

September 2018: Construction continues with MN Team

August 26, 2018: Farewell picnic to Changsha Artisans

August 2018: Installation of Hmong Heritage Wall is completed!

August 6, 2018: Final container arrives and construction begins!

July 24, 2018: Four containers arrived from Changsha at Phalen Park!

Thank you to all our supporters who attended the July 14, 2018, Groundbreaking Celebration! For more photos, click here.


Construction began on May 31, 2018!



May 30, 2018, Hmong Blessing by Hmong Elder XF. Txawj Miav Vaj at Construction Site

May 29, 2018, Feng Shui Ceremony at Construction Site

Changsha Unveiling Ceremony (May 3, 2018) of Xiang Jiang Pavilion


Pictured left to right: Xiong Zhongshan, Liu Fang, Fan Jennifer Junfang, Wen Youhua, Wei Jianxin, Zheng Lihu, Zhou Shulan, Xiang Handong, Du Borui, LuXingying, Du Shanping, Lei Yixin, Zhang Feng, Shen Shouyun, Wen Chunhua, Chuen Qionglin, Li Yachun, Chen Wenxiang
The Fabrication in Changsha of the Hmong Heritage Wall & West Entrance Arch


The Fabrication in Changsha of the Xiang Jiang Pavilion, Sister-city gift to St. Paul

**************************************************************************************
ST. PAUL & CHANGSHA EXCHANGED SISTER-CITY GIFTS IN 2018
Changsha sent the beautiful Xiang Jiang Pavilion (see above) to St. Paul and St. Paul sent a set of 5 iconic Peanuts statues reflecting St. Paul Culture. The design for Snoopy on his Doghouse was created by MN Chinese artist Shen Yudong featuring 5 MN State symbols. The design for Nkauj Hmong Lucy was created by MN Hmong artist Kao Lee Thao featuring Lucy in a traditional Hmong dress. Charlie Brown, Linus, and Joe Cool were in original outfits.


St. Paul City Delegation and members & friends of MCFGS traveled to Changsha for the Official Unveiling Ceremony at Yanghu Wetland Park's Science Museum in October 2019

The Peanuts Statues arrived at their new home – Yanghu Wetland Park, Changsha, in the summer of 2018

Several community celebrations were held in St. Paul at the beginning of 2018 before the statues were crated and shipped to Changsha




The Minnesota China Friendship Garden Society commissioned the creation of 5 Peanuts statues to send as a gift to Changsha – Production in 2017-2018 [Fabrication by Tivoli Too]

*************************************************************************************************
Future Phalen Park Lakeside Pavilion, with Changsha-style architecture


This China Garden Will Be:
First Chinese garden in the United States using Changsha-style architecture

First Sister-City China Garden in Minnesota

Sister-City project between City of St. Paul and its sister-city Changsha, Hunan, China

Located at Phalen Park, St. Paul, across from "Meditation" sculpture by Changsha Sculptor Lei Yixin
Changsha Architect Team

The China Garden conceptual designs were created by the husband and wife architect team from Changsha, Jennifer Junfang FAN 范俊芳 and Jon Youhua WEN 文友华 (Changsha Hunan Jianke Landscape Company, Ltd. 湖南建科园林有限公司), who worked with Alice Messer, senior landscape architect for St. Paul Parks & Rec (pictured below with Mike Hahm and Bryan Murphy of Parks & Rec, Weiming Lu, Bill Pesek, formerly with Parks & Rec, Linda Mealey-Lohmann, Bill Zajicek, and Romi Slowiak).

Meditation Sculpture in Relation to China Garden

The China Friendship Garden forms a backdrop for the beautiful 7'6″ limestone sculpture entitled "Meditation" that was created by Changsha Master Artist Lei Yixin in June 2006 as part of Minnesota Rocks! International Stone Carving Symposium envisioned and produced by Public Art Saint Paul. PASP worked with US-China Peoples Friendship Association-MN Chapter Board members Larry Coleman and Jennie Hsiao to identify Master Lei as a potential artist for the Symposium. This sculpture was installed at Phalen Park and dedicated by Mayor Chris Coleman in July 2007. Master Lei is the artist who created the 30-foot Martin Luther King, Jr. "Stone of Hope" Memorial installed in Washington, D.C. and dedicated in 2011. Master Lei has remained a close friend of USCPFA-MN and the Minnesota China Friendship Garden Society and was instrumental in the signing of the 2015 sister parks agreement and the 2018 sister-city gift exchange between St. Paul and the Changsha City government and Changsha Yanghu Wetlands Park. Weiming Lu (pictured on left) has a long history of building bridges between the U.S. and China and has been an Advisor / Board Member to the China Garden Society since its inception.
Recent Park Improvements


The China Garden is designed with larger path connections to the recent park improvements, such as the restored waterfall, restored historic stone arch bridge, limestone shoreline sitting areas, and fishing piers, as well as to the bicycle trails and adjacent island. The pathways encourage people to move through the garden and explore other areas of Phalen Regional Park.
Dragon Festival

Phalen Park is the site of the annual two-day Dragon Festival in July, which attracts visitors from all over the state to view the 40-foot long Chinese dragon boat races, along with Asian performances, martial arts demonstrations, and food. The China Friendship Pavilion would complement and enhance both the beautiful Changsha sculpture and the Dragon Festival.

Dragon Garden At Phalen Poetry Park

On the southern end of Phalen Park is a community garden sponsored by the East Side Arts Council at 1000 East Wheelock Parkway. It is designed as a sleeping dragon encircling a dry rock bed with benches cast as inviting open books.
Download the Changsha Garden Brochure (pdf)